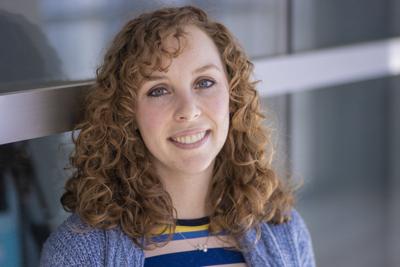 Circleville High School English III and American literature teacher Miss Kayla Theis has been named to the 2020 Communication Fellows program in Ohio University's Scripps College of Communication.
Theis is one of only nine teachers selected for the third annual honor.
"I am really honored and grateful to be selected as part of the 2020 cohort of Communication Fellows," said Theis. "I look forward to collaborating with the Ohio University faculty and my fellow teachers from across Ohio to make learning more meaningful for my students!"
As a part of the fellowship, Theis aims to enhance CHS English class offerings by giving students the opportunity to create podcasts for class assignments. With how fast the field is growing, the initiative will enable students and staff to use multimedia audio channels to produce podcasts which analyze literature, subjects of interest, or controversial arguments.
"My objective is to create an engaging curriculum for my students, which includes the options to express their knowledge or arguments through podcasts," continued Theis. "Argumentative writing is one of the core standards for English, and by creating content for a podcast, this would help students form arguments in a way that is applicable to the real world and they will see how these skills can transfer to different jobs or skills needed in the future."
Congratulations Miss Theis!